When you think of space, the organisation that immediately springs to mind is NASA, and then probably SpaceX. But for those of us who don't live in the US, the fact that a lot of the big companies and funding for space research are found there is more than a little disheartening, especially when you realise that because rockets are fundamentally weapons, it's near impossible to work with one of the big contractors, commercial companies or even NASA itself if you aren't a US resident…
So, how can you work in the space industry if you don't live in America?
I spent literal days researching this post, so it ended up quite long- hopefully it will be a really good resource for anyone interested in the space industry from a UK perspective! To make it easier to navigate, I'll link each part below so you can skip to the most useful place for you, but I recommend reading it in order!
Is it possible to work at NASA?
On the whole, NASA does not hire people who aren't permanent residents of the US, because it's a government organization. Working with rockets or satellite technology specifically (either with NASA or a contractor like SpaceX) is even more difficult due to loads of regulations and the specific visa systems which I'm not going to get into here, but Camille at The Galactic Gal has a fantastic post all about this, which I'll link here.
However, universities have less stringent restrictions, so it's possible to work on NASA's science/planetary missions like Juno or Perseverance, for example at JPL, as this is linked to Caltech, a university, and the roles are in science or robotics rather than rockets. JPL also offers a Visiting Student Research Program which is like an internship for international students! The university route is probably the most accessible, as then it could be possible to apply for citizenship later on, if it was your dream to work at one of the big names!
There is already a shortage of STEM professionals in the US, so as the space industry expands I really hope that the US government changes their regulations on this!
OK so if not NASA, where?
I'm going to focus on the UK and Europe, as about 60% of my viewers (and myself) are from the UK and 6% from Europe (the US makes up 19% if you were interested!), and there tend to be slightly fewer restrictions, but if that's not useful for you, I will be doing another blog post featuring some space companies from across the world soon, so keep an eye out for that!
Although not famed or well known, the UK space industry is growing rapidly, with plans for 3 spaceports within the next few years! The first of them- with the first launch potentially just a year from now- will be Spaceport Cornwall, one of Virgin Orbit's launch centres! And after the first successful orbital launch just last week, it looks like we could be seeing Launcher One take off from one of the UK's most popular tourist destinations! Rockets taking off here will be nothing like the ones we usually see from Kennedy Space Centre- Launcher One is attached to the wing of an adapted Boeing 747 and once it reaches altitude, the rocket is released, and it then fires its engines to reach space! Cornwall is perfect due to its proximity to the sea (as rockets don't launch over inhabited land as a safety precaution) and the fact that the runway at Newquay is already long enough for take off! Cornwall is already a key location in the UK space industry- Goonhilly Earth Station, which originally was set up for telecommunications, but is now used as a space science centre for deep space communication and radio astronomy.
The other spaceports are on the opposite end of the country, up in Scotland. These will look more like your typical rocket launch facilities, with both Lockheed Martin and Orbex building more traditional rockets. They were originally going to share a spaceport in Sutherland, but now Lockheed Martin will have their own launch site on the northernmost Shetland Island. Scotland may also be home to another horizontal spaceport (like Spaceport Cornwall) at Prestwick Airport, but I can't find much info on this.
All of these will be primarily used to launch satellites (though Cornwall Spaceport may also work with Virgin Galactic in the future, one of the leading space tourism companies) which brings me to my next topic:
The era of the start up satellite company
So I'd spent a fair bit of time looking up space companies previously, to find work experience, but after a deeper search I've found there are literally hundreds of space companies across the UK! Many of these are satellite companies- either making them or acting as the middleman between research/business and launch. Some specialise in Earth observation (such as Earth-i, eOsphere and EarthBlox), whereas others offer a huge range of services- one of the biggest is Surrey Satellite Technology, but there are loads of others like InSpace, AAC Clyde Space and Open Cosmos. The growth in demand for microgravity test facilities and the future availability of spaceports has also led to the formation of companies offering launch vehicles, such as Reaction Engines, Skyrora and Raptor Aerospace. These are just a few of the ones I found, and each of them (and many more) will soon have profiles on my resources page when it launches! As you can see, the UK space industry is already quite large (it holds 5.1% share of the global space economy according to government data from 2017)- it's already tripled in size in the last 20 years and is set to accelerate to reach the government's goal of a 10% share by 2030! Most of the companies definitely seem to be clustered in specific areas, for example Didcot/Harwell in Oxfordshire (linked to RAL and STFC, also home to UKSA- more on this later), Guildford in Surrey, and in Scotland.
Space Science and Astrophysics Research
Space isn't just about rockets and astronauts- in fact a lot of the work done in the rocket world is done to progress our knowledge of the universe! Most research jobs, especially in space related fields, are through universities/in academia, for example as a postdoctoral researcher or a research fellow (like astrophysicist Dr Becky Smethurst who runs one of my favourite youtube channels!). Some of the top universities in the UK for space related research are:
Oxford/Cambridge
UCL- home to Mullard Space Science Laboratory
Imperial College London
Leicester- home to National Space Centre
St Andrews
Bath/Bristol- for aerospace engineering
Surrey- linked to Surrey Satellite Technology
These are based on rankings and my knowledge of departments and space companies in the area! Universities offer positions for PhD students, postgraduate researchers, technicians, science communicators and so much more, in pretty much any sub-field of space you can think of!
What is our version of NASA?
The UK Space Agency is the governmental body responsible for managing all things space in the UK, for example coordinating investments and grants, organising internships/training/conferences, leading policy decisions and especially science communication/education. But most of the industry is within these smaller businesses- typical of the 'new space' industry, which involves the moving away of the space industry from solely being run by large governmental organisations to a much more commercial standing. However, we are part of the European Space Agency (something that thankfully will remain so, despite having left the EU). ESA isn't quite as large as NASA, but it is run similarly, with offices spread across the participating countries, building big scientific missions and sending astronauts to space! 23 ESA astronauts have been to space- including Britain's very own Tim Peake! As well as participating in international space projects (ESA built the Orion service module, built the Columbus Laboratory module on the ISS and will be involved in the Lunar Gateway project), they have also launched uncrewed exploration missions- let's take a look!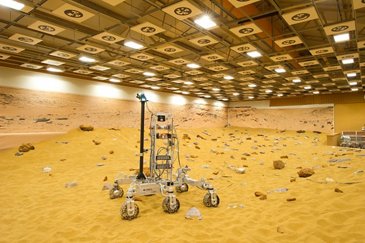 ESA is mainly based in Germany and France, but it does have one office in the UK: ECSAT, which is located in Harwell and as appropriate for the UK space industry, it focuses on satellite technology and communications! ESA also is a partner at the National Space Propulsion Facility (rocket/satellite engine test centre) and has contracts with UK companies like Airbus (the UK part- Airbus is a multinational company from Europe). Airbus Defense and Space is a big contractor in the space industry, particularly in the UK- the Exomars rover was built and tested at its site in Stevenage!
So although we may not have quite the same fame as our US counterparts, there's now doubt that the future of the UK space industry is ~out of this world~! So if you are an aspiring astronaut, astronomer, aerospace engineer, or just interested in space- don't give up just because you don't live in the US!
Other than the NASA website, here are some good web pages linked to this!